May 9, 2020
TMUH disease prevention Taiwan We Go Team gives medical aid to Eswatini
The COVID-19 pandemic continues to assault the entire world. The Kingdom of Eswatini, a country on the other side of the world with which Taiwan has diplomatic relations, has had more than a hundred confirmed cases, including frontline medical care providers. The need to prevent hospital infections from turning into social spread is high. Taipei Medical University Hospital (TMUH), which has a permanent presence in Eswatini, received a call for support from the Eswatini Ministry of Health. Within 2 weeks, TMUH had put together the Taiwan We Go disease prevention and medical care team. May 1st, 2020, the team headed to Eswatini to begin their first month of disease prevention guidance.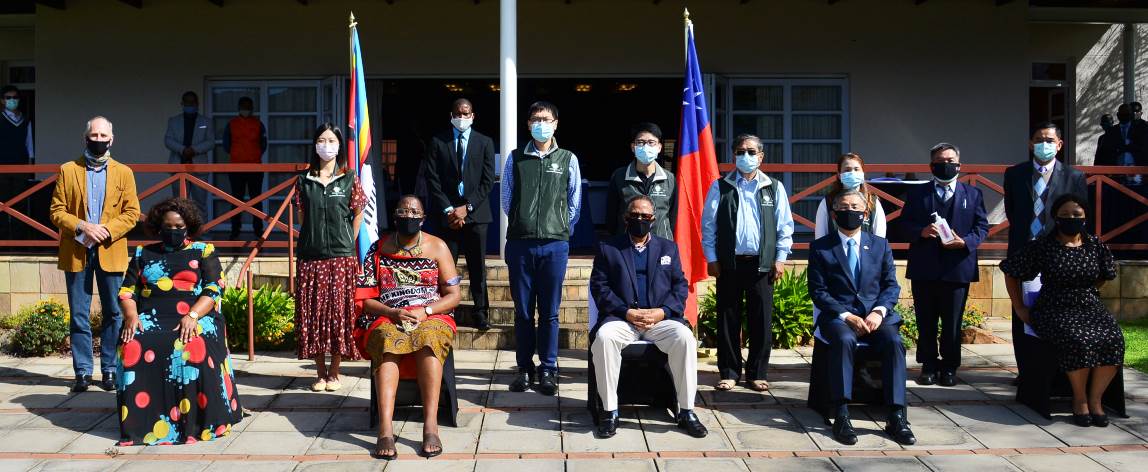 [Photo: His Excellency Ambrose Mandvulo Dlamini, Prime Minister of Eswatini (front row, second from left) personally welcomes the TMUH disease prevention team]
Eswatini is located in southern Africa. The current King, Mswati III, has stated in a UN speech that "Taiwan's experiences will be of benefit to the entire world". Since 2008, TMUH has undertaken to provide medical care in Eswatini, providing medical treatment and clinical training with both sides working hand in hand. Faced with the pandemic, Eswatini made a special request for 4 TMUH medical care providers to go there and provide pandemic prevention assistance.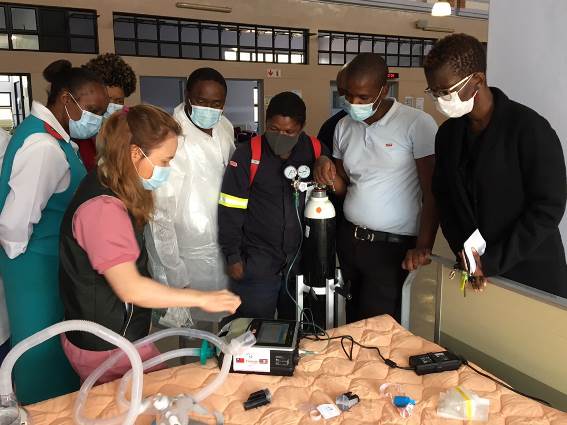 [Photo: Respiratory therapy department head Lee Hsin-yu shows local medical care providers how to use a respirator]
Once they received permission from TMUH and the Central Epidemic Command Center, the Taiwan We Go Team   headed to Eswatini to assist in clinical pandemic prevention & medical care efforts. They used teaching and training to help build up local intensive care capacity.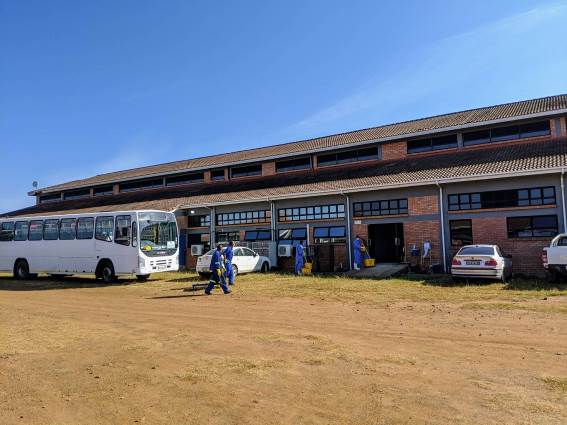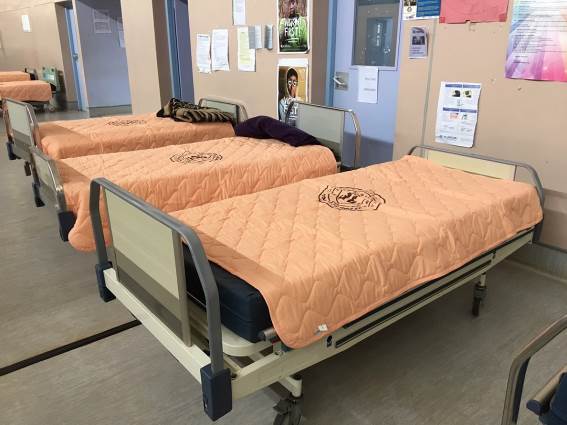 On May 1st, the Taiwan We Go Team arrived at Lubombo Referral Hospital, which is a dedicated pandemic treatment hospital with beds co-donated by TMUH and the Ministry of Health and Welfare. Every day, the team kept in touch with TMUH and the Command Center via videoconferencing. The team focused on the latest pandemic developments and treatment enhancement plans, as they engaged in bilateral discussions. It is hoped that these efforts will enhance local treatment and prevention, and help stop the spread of the pandemic. [Photos: Exterior of Lubombo Referral Hospital, a dedicated pandemic hospital in Eswatini (left); beds donated by TMUH and Taiwan's Ministry of Health and Welfare (right)]
Pandemic prevention team leader Dr. Li-Yuan Chen  stated that Eswatini is not large in area, and has a population of only around 1 million, but there is unequal distribution of medical care resources between rural and urban areas. The country also doesn't have experience responding to epidemics. For example, hand disinfectant and other sterilizing supplies were in insufficient supply, and had the potential to become a gap in disease prevention.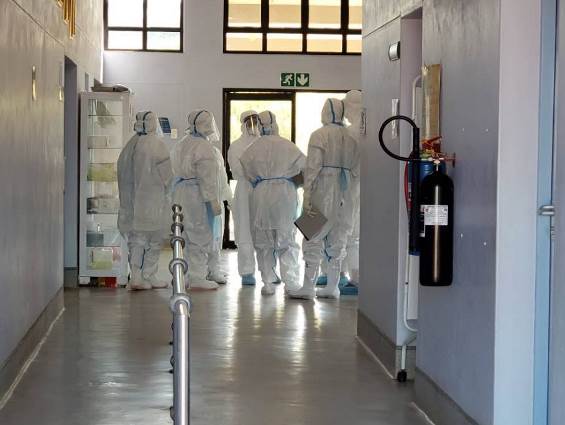 [Photo: Disease prevention specialists dress in protective clothing to enter a patient room]
As of May 11th, Taiwan time, most confirmed cases in Eswatini were young or asymptomatic. However, some medical care providers were also numbered among the confirmed infections. Prior experience has shown that, if ground is lost in the hospitals, large-scale social spread may follow. The top priority for the disease prevention team was to stop in-hospital transmission. The team also recommended changes to hardware and traffic patterns in Eswatini's hospitals. In the future, this will be followed up by training on intensive care respirator use, clinical intensive care issues such as how to don and remove protective gear, preventing infection, and health education for healthcare professionals.    
Dr. Tu Chi-cheng  head of the permanent TMUH Eswatini team, stated that the government and people of Eswatini remain on high alert about COVID-19. Dr. Tu also expressed hope that the dedicated disease prevention team's assistance will help to strengthen the safety and efficiency of disease prevention efforts in Eswatini, to help the country safely weather this pandemic.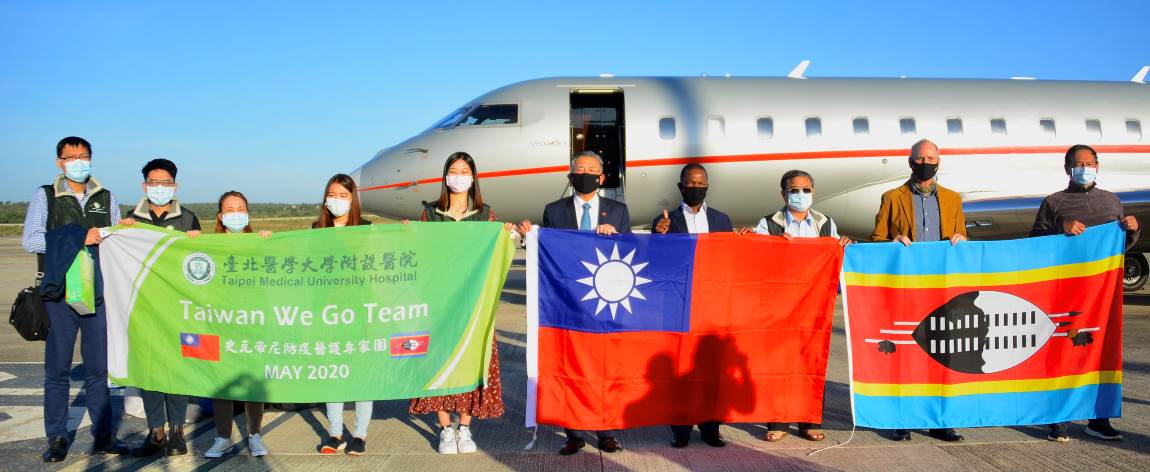 [Photo: TMUH's Taiwan We Go disease prevention team arrives in Eswatini]