Link to TMUH-Aesthetic Medical Center Website: tmuh-beauty.com
REQUEST APPOINTMENT
Please call : (02)6636-7135, (02)2737181 ext. 8215.
Or email us at: tmuhbeauty@h.tmu.edu.tw
Service hours:
Mon 9:00~17:00
Tue 9:00~21:00
Wednesday 9:00~21:00
Thursday 9:00~21:00
Friday 9:00~17:00
Saturday: 9:00~12:00
Department of Dermatology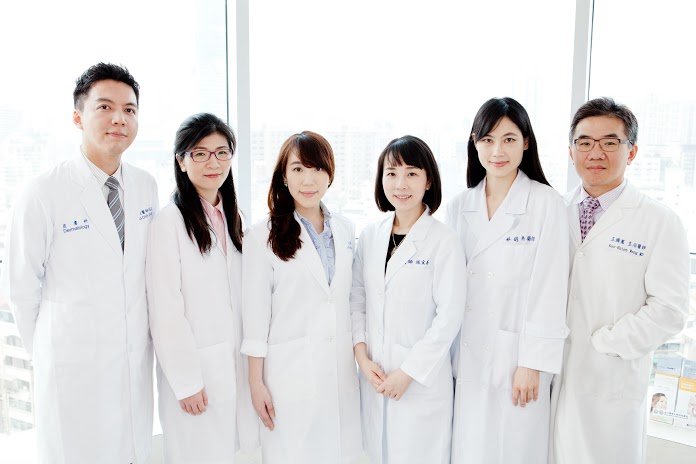 Department of Dermatology in Taipei Medical University Hospital is a clinical center for patient care, research, and education. We provide dedicated and high-quality dermatological services at the heart of Taipei, a 10-minute walk from Taipei 101. Our center is comprised of professional dermatologists with international training experiences in the both dermatology and cosmetic medicine realm. Our facilities include outpatient& inpatient services, we also provide consultation for emergency medicine. We also conduct dermatology residency program. Our outpatient clinic provides skin biopsy, immunofluorescent diagnosis for bullous and auto-immune diseases, biologics, phototherapy, cryotherapy, skin tumor surgery, etc. We also provide execellent and versatile laser and cosmetic treatments at our Cosmetic Medical Center.
Cosmetic Dermatology (at Cosmetic Medical Center)
Link to TMUH-Aesthetic Medical Center Website: tmuh-beauty.com,
TEL: (02)66367135
Laser & light : Laser hair removal, tattoo removal, Fraxel laser, intense pulsed light (IPL), Miradry, Ruby laser, Fractionated CO2 laser, Er:YAG laser.
Cosmetic Injectables:Botox and fillers (Restylane, Juvederm, Radiesse, Sculptra)
Non-invasive face lifting(Ulthera), Thermage, non- invasive body contouring( Ultrashape), Bromohidrosis surgery, Medical SPA treatments                    
Conditions We Treat
Common skin disorders: atopic dermatitis, eczema, contact dermatitis, ring worm (fungal infection), shingles (herpes zoster), warts, acne, rosacea, herpes etc.
Bullous disease: pemphigoid, pemphigus, erythema multiforme, etc.
Psoriasis
Drug related skin reaction
Pigmentation disorders: vitiligo, hyperpigmentation, changing moles…, etc.
Hair problems: hair loss( androgenetic alopecia, alopecia areata…), hypertrichosis, broken hair…
Nail problems: onychomycosis, dystrophic nail, ingrown nail, pincer's nail…
Skin cancer (Squamous cell carcinoma, Basal cell carcinoma, Melanoma)
Cosmetic dermatology: skin aging and sagging , brown spots, wrinkles, scars(acne and surgical), birth marks, vessels, laser tatto removal, laser hair removal, dark circles, pores, cellulite & fat, hair & sweat problems
Services & Treatments
SERVICES & PROGRAMS
Skin disease diagnosis & treatment
Dermoscopy: mole check 
Skin tumor diagnosis & surgery
Skin biopsy & immunofluorescence staining
Phototherapy (in outpatient clinic): including topical PUVA, narrow band UVB, excimer uv light, low energy He-Ne laser
Patch test & photo-patch test
Cryotherapy
Biologics
Pulse therapy for alopecia
Nail surgery
Link to TMUH-Aesthetic Medical Center Website: tmuh-beauty.com, 
TEL: (02)66367135
OUR DOCTORS